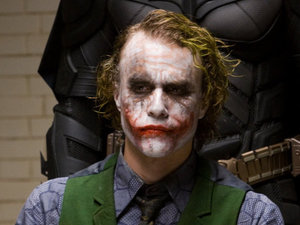 A long time ago, while talking about The Dark Knight, somebody told me that the reason he found Heath Ledger's Joker to be such a great and unsettling character was mainly because the character on itself messes with one's idea of certainty with the way he states about 3 different stories  to explain his scars.
We're used to characters being truly honest or truly deceitful, or at least have "no return" points where they truly become one or the other. We're used to seeing black and white, but grey is unsettling.
The Joker is a good metaphor for the current state of my life. It's not that I am afraid of the things I am going through, or that I am refusing to go through there, honestly been there, done that; but it's just that the circumstances are different, and somehow, all of my certainties are messed. The things I once thought to be real, and true, and forever, have proven that are not. Nothing is set. Nothing has ever been set. And nothing will ever be. It's done and dusted, and to be quite honest with you guys, I am sure I am the executioner.
You know what I've noticed? Nobody panics when things go "according to plan." Even if the plan is horrifying! If, tomorrow, I tell the press that, like, a gang banger will get shot, or a truckload of soldiers will be blown up, nobody panics, because it's all "part of the plan." But when I say that one little old mayor will die, well then everyone loses their minds! Introduce a little anarchy. Upset the established order, and everything becomes chaos. I'm an agent of chaos. Oh, and you know the thing about chaos? It's fair!
A few weeks ago, a friend and I were remembering this little speech The Joker gives to Harvey Dent. That is the grey, and I can totally see it as the chaos I am yet to face and fully become acquainted with. I can tell you guys that the only thing I am certain of, is that I don't have a plan.
And I am waiting to.